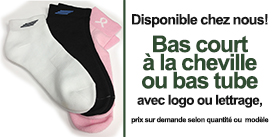 Bas unis , avec vos couleurs ou avec logo, lettrage ou pour levée de fonds.
Prix sur demande selon la quantité, le modèle et le logo.
Socks one color or with the color of your Club or with logo or lettering, or for fund raisers.
Price on request depending on quantity, style and logo.